Shopify API Integration
dJAX provides expert integration using Shopify API, SDKs and Notification frameworks. a general challenge that is faced by eCommerce websites is that when the site grows beyond capabilities of the default Shopify features it becomes increasingly difficult to handle operations. Once the store attains that particular level of it will become a mandatory requirement to to integrate with different applications that provide the required services. Like shipping providers, SMS gateways, products, customers and other systems. Integration with the required functionalities without any hassle for consistent growth in the e-commerce operation. Shopify's API implements JSON to manipulate each API resource in isolation, providing a RESTful interface, and dJAX implements API to integrate a third-party application with the web shop. The Shopify App Store is great if a reliable application can be found that does exactly what is required, however, if the users have a different requirement or want to do something slightly different there is a need to need to develop a custom app and dJAX are the experts in developing it for meeting business requirements.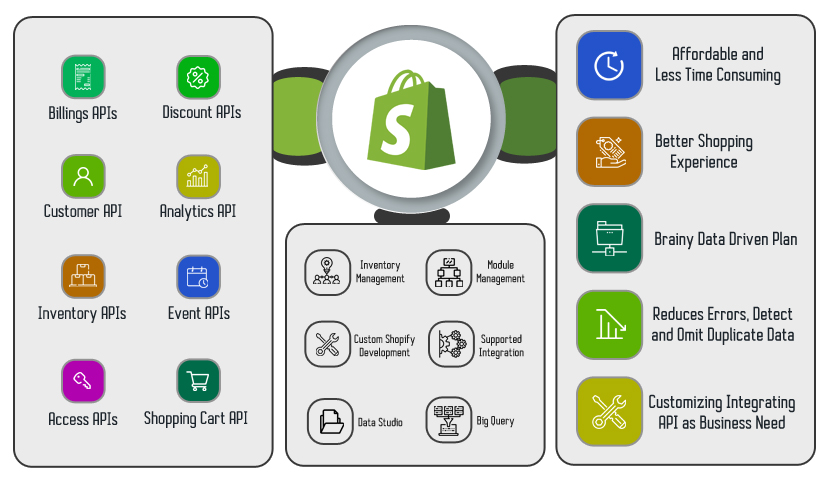 Shopify API by dJAX -Real-Time Usecases
Third-Party Logistics Integration
Order notifications are pushed via webhooks from Shopify to the custom web app
These order notifications are stored in the custom web app database.
These order notifications are stored in the custom web app database.
Tracking numbers and order updates are pulled back by the custom web app and stored in the database.
These order updates are pushed back to Shopify via the Shopify API.
Old orders are cleaned out by the system on a regular basis.
This integration reduces manual processing time and human error, and at volumes of hundreds or thousands of orders per day can be a very effective time saver for online store and improve customer service levels.
Custom Pricing
This is a more unique piece dJAX did a few years ago to integrate the recurring payment gateway with a paid annual membership, and then updating prices of products in the store based on the membership level purchased (i.e. pricing tiers).
The user selects a specific membership level to purchase. The user is redirected to the recurring payment gateway page to complete the purchase.
A webhook from the recurring payment gateway is sent to the custom web app.
The custom web app updates the customer record in Shopify via the API with a meta field denoting their membership level. The custom web app continues to listen for update webhooks from the recurring payment gateway to update the customer record accordingly.
Modifications were made to the theme to display different priced variants for each tier of the customer.
SMS Marketing
This is a scenario similar to the third-party logistics integration. This workflow can be used to follow up customers that may want to repurchase from you and is ideal for selling products that can be continually reused without requiring significant variation (e.g. nappies, washing powder or other consumable products).
Order notifications are pushed via webhooks from Shopify to the custom web app.
These order notifications are stored in the custom web app database.
On a regular basis, the custom web app pushes these to an SMS gateway like
Responses are then pulled back and updates are pushed to the orders in the Shopify system. Depending on the workflow of the store, these can be created as new orders and sent for rebilling, or updates to older orders and then allowance for manual recapturing. In the ideal situation, a solution in place that allows for variable ongoing billing, however, this is a much more complex solution generally beyond the reach of most Shopify stores.