Facebook Ads API
Add value to social advertisng data with impactful insights obtained by Facebook ads API engineered by dJAX. Integrate data through Facebook Ads API; all data in API connectivity through a single, central reporting hub. With the API precisely identify the creative, targeting and bidding options that work the best, continuous analysis of data sets to obtain accurate results and better understanding of campaign performance. Our API is a combination of advance functionality and analysis, regularly monitor data without undergoing any manual work. Also, with our API it is easy to send marketing data to any desired destination such as Google Sheets, data bases and warehouses. Access all the features of Facebook and Instagram Ads through and efficient API.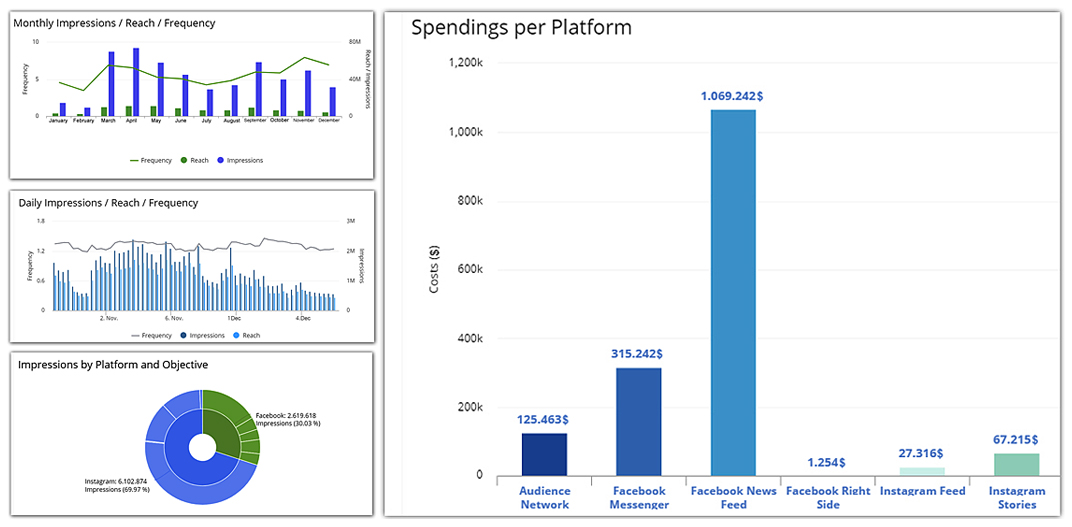 Why Choose Facebook Ads API by dJAX

Metric Access
Get access to more than 75 metrics with several breakdown possibilities, such as attribution window or action type. Precise metrics to elevate operational performance of every ad campaign.

Advanced Analysis
Detailed Analysis of performance in different segments, such as campaign objective, publisher platform or ad format across Facebook Ads accounts. Analysis assists in perfect planning for the upcoming campaigns.

Custom Options
Build dashboards based on Facebook ads data to compare the performance against ads on other advertising channels. Customize dashboards based on the requirement and can customize the settings.

Social Data
Gain access to all the social platform data. Blend Facebook data with data from several other social advertising platforms, such as LinkedIn, Instagram, You tube or Snapchat to get the complete picture of your social media ads.

Queries & Segments
Based on the campaign requirements queries and segments can be adjusted for enhancing operations. All available dimensions can be queried and segmented by several breakdowns, such as age, gender, publisher platform, device or region.

Evaluate Metrics
With dJAX API upload target metrics to regularly compare actual metrics against planned values. This feature will assist in identifying areas of improvement and areas that need to be improved.
The Facebook family has Instagram, Whatsapp, Facebook Messenger and the Facebook platform under it. Advertisers have huge potential to reach a large number of user and thereby potential customer. Reaching a large number of users also means a great variety of data to look at. In recent years, Facebook have caused a huge impact in terms of generating performance-based traffic.
Along with creating interactive campaigns on social media, dJAX API can be used to optimize relevant business objectives. An ideal API to handle data-driven decisions which already dominate the digital media. Depending on the organization goals, there are different metrics that can be used to monitor performance on a regular basis.
Campaign Creation using the best API
Ads Manager is your starting point for running ads on Facebook, Instagram, Messenger or Audience Network. It's an all-in-one tool for creating ads, managing when and where they'll run and tracking how well your campaigns are performing. Ads Manager is a powerful ad management tool, but it's designed for advertisers of any experience level.
Create brand new ad campaigns

Ability to select campaign parameters such as objective and audience to be targeted. Also manage creative work: upload ad creative, write ad copy and review how your ads look on different devices. The initial part of campaign creation eliminates the chances of poor performing campaigns.

Review & Adjust campaigns

dJAX API makes it easy to edit budget, audience, placement options and creative – including editing multiple ads in bulk. Option to pause, copy or re-launch ad campaigns at any given moment during operation.

Learn from Real-time Ad Reporting.

Reporting tools help to see if your ads are driving their intended goal. By spotting trends over time, identify areas to adjust – such as image, budget or audience – to improve campaign performance. Real-time reports with precise information can create a wave of best performing campaigns.

Best Workflow

dJAX API offers two methods for creating an ad: quick creation and guided creation. Once a method is selected, user will be defaulted into that experience each time a new campaign is created, ad set or ad. The API also includes options to change preferences at any time.

Guided Creation

The API offers Guided creation for users through a step-by-step wizard to walk through the steps an advertiser would take to launch a common campaign. Choose this option if you're less familiar with all of the components of Facebook ad campaigns.

Quick Creation

Quick creation gives the freedom to set up the campaign, ad set and ad elements in any order. Quick creation is a good choice for advanced advertisers who have more experience in the managing Facebook Ad Campaigns.